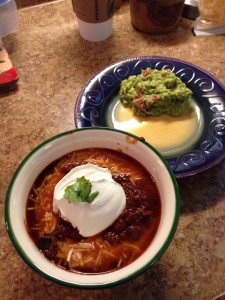 It's the Fourth of July, and what better way to celebrate than with some good ole Texas Chili!
In a cast iron skillet, brown some cubed sirloin in a little bit of bacon grease. Cover with diced tomatoes and sauce and boil until the tomatoes stop foaming. The acid from the tomatoes will start to break down and soften the meat. Add some fresh tomatoes, onions (I use yellow), and as many different peppers as you can find in your store and cook at a near boil until the fresh veggies are soft and the onions are translucent. Add in a mix of chili powder, ground cumin, ground oregano, salt and pepper and a can of tomato paste and simmer until at least half the meat has nearly disintegrated, and voila! it's chili.
For the 5 pounds of meat I had to work with, I used 2 one pound cans of diced tomatoes, a can of water, 4 ancho peppers, one jalapeno, three fresh tomatoes, 2 vidalia onions, about 3/4 cup of chili powder, a spice jar lid of cumin, half a spice jar lid of ground oregano, a spice jar lid of paprika, and a healthy pinch of cayenne. Salt and pepper to taste. If you're not worried about carbs, add a can or two of Ranch-Style Beans. The only peppers I could find were fresh anchos and jalepenos. I would have loved some of those red, sun-dried ancho peppers also to give it a little more smokey flavor, but alas, here in Yankee-land they are scarce.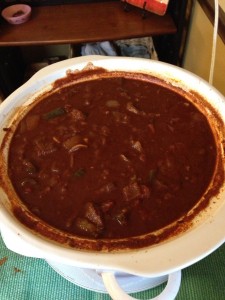 I serve topped with a healthy dollop of sour cream and shredded orange cheese.